YES-HER YEAST BIOSENSORS
DOES IT SAY (YES) TO (hER)?



Because endocrine disrupting compounds are usually found in minimal amounts (ng/L-1) in the water, one of the most common techniques for their detection is liquid chromatography-tandem mass spectrometry (LC-MS). But this approach is very expensive to perform on a routine basis, requiring both skilled personnel and a robust quality assurance/control program. Maybe biology is the answer... The YES-YEAST (yeast estrogen sensor) are a genetically modified strain of Saccharomyces cerevisiae (W303) that contain Human Estrogen Receptor (HER). They act as a biosensor: the input is estrogen and the output is a yellow color change. More importantly, the YES yeast are extensions of our bodies: what binds to their receptors also bind to ours, demonstrating a DIRECT biological response to xenoestrogens on our bodies. The same process of estrogen binding and activation is reproduced in the yeast. This bioassay detection method is more sensitive than the chemical approach either detecting estrogenic target compounds at lower concentrations, other non-target compounds, and synergistic effects that chemical methods and machines fail to detect.

This is both a "part two" of the Open Source Estrogen project as well as the Final Project for HTGAA, which combines lectures (1) "Synthetic Minimal Cells" with Kate Adamala, (2) "Bio-production" with Patrick Boyle, (3) "Computational Protein Design" with Srivatsan Raman, and (4) "Tools, Automation, and Open Hardware."




RCBA: Recombinant Yeast Cell BioAssay
A study by Duke University
shows yeast cells transformed with plasmids encoding human estrogen receptor linked to a reporter gene have both high specificity and sensitivity for estrogen detection (specifically 17-beta-estradiol) as compared with human breast cancer cells (MCF-7) and uterotrophic assays with mouse uterine weight bioassay. The recombinant yeast were also sensitive to synthetic xenoestrogens and phytoestrogens. Another key advantage is the absence of
xenobiotic biotransformation
activity, in other words, the yeast did not alter the chemical composition of the analyte through metabolism, mineralization, etc.
Here is an image of the plasmid inside recombinant yeast (you can purchase one from
Addgene repository
for $65 and start your yeast assays) accompanied by
this paper from Tulane University
(2009). The plasmid encodes Human Estrogen Receptor (HER). Upon exposure to estrogen, the cell begins to produce an enzyme called beta-galactosidase (part of the LacZ expression system) which creates yellow nitrophenol product when you add ONPG substrate along with the estrogen sample. The YES-yeast then have to be lysed (killed!) to see the yellow color.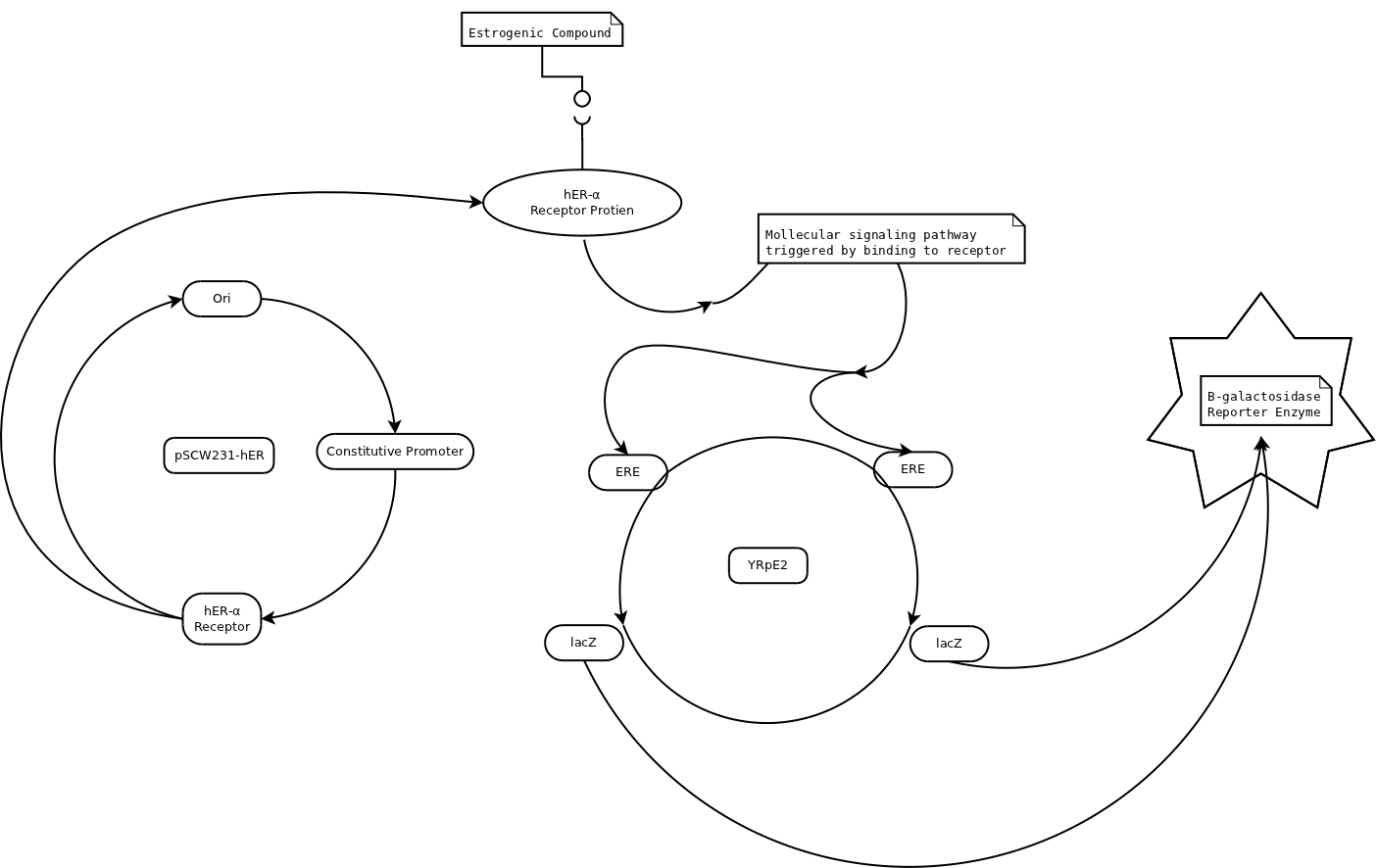 SAY (YES) TO (hER)! & BLYES
This is
YES
: Yeast Estrogen Screen, nicely illustrated by
Avery Louie.
It interacts with hER: Human Estrogen Receptor (coded by pSCW231-hER in diagram), causing expression of beta-galactosidase (yellowish color that can be read colormetrically or with spectrophotometer in media). Combine with bacterial luciferase, and you get
BLYES
: BioLuminescent Yeast Estrogen Screen. Big Science has it too!
XenoMEtrix Online Product Protocol
***this is (so far) the most feasible method for low-cost, diy estrogen detection!!
COOL, LET'S DO IT.

STEP #1: PLASMID PURIFICATION

THE ADDGENE PLASMID ARRIVES IN AN AGAR STAB OF AMP-RESISTANT ECOLI. GROW UP OVERNIGHT IN LIQUID CULTURE (LB SPIKED WITH AMP), THEN RUN DNA PURIFICATION USING OMEGA BIO-TEK DNA MINI PREP, SPIN PROTOCOL. USING NANODROP, PLASMID CONCENTRATION WAS ASSESSED TO BE AROUND 80-100ng/ul WITH LITTLE TO NO PROTEIN CONTAMINATION BASED ON 260/280 RATIO.

STEP #2: YEAST TRANSFORMATION
THE YEAST STRAIN USED WAS W303a OF S. cerevisiae. THREE TRANSFORMATIONS (YT) WERE MADE: 1) YT IN 40MIN HEAT SHOCK 2) YT IN 20 HEAT SHOCK 3) CONTROL (NO DNA). 1uL OF PLASMID WAS USED TO TRANSFORM 3mL OF YEAST CELL CULTURE AND INCUBATED AT 30C FOR 3 DAYS. ALTHOUGH THERE WAS CONTAMINATION IN YT40 AND CONTROL, NO YEAST WERE PRESENT IN THE CONTROL.
STEP #3: ESTROGEN BIOSENSING
DOES IT SAY [YES] TO [HER]?

SUPER IMPORTANT TO REFERENCE
THIS NATURE PROTOCOL
, but I will try to summarize here.
DAY ONE: take a transformed yeast colony and make a liquid culture with 10mL
SC(-)TRP
(This is the selective media containing no tryptophan. The transformed yeast should survive without trp, other strains cannot). Incubate overnight @30C with tube shaking.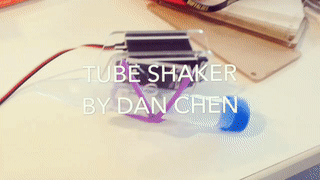 CHECK OUT THIS
DIY TUBE SHAKER BY DAN CHEN
. IT FITS IN THE MAGICFLY CHICKEN EGG INCUBATOR
$73 ON AMAZON
. This is especially nice for compact traveling.
DAY TWO: Make a 100-fold dilution of your overnight culture by taking 50uL and diluting in 5mL of SC(-)TRP.
To test the transformed yeast for estrogen detection, you should work with KNOWN amounts of estrogen. I purchased some
Estradiol from Sigma Aldrich
to make a 100mM estrogen stock that I will use for dilutions.
Put 1uL of each estrogen dilution into 100uL of overnight yeast culture. Incubate overnight 18hrs @30C. No need to rotate.
DAY THREE: LAC Z REPORTING.
First check cell density using spectrophotometer @600nm.
0.2% sarkosyl & Z buffer stock preparation: Measure and dissolve 2g sarkosyl in 10mL Z buffer.
10X ONPG preparation: (***needs refrigeration 4C) Measure and dissolve 0.4g ONPG in 10mL Z buffer.
ON DAY OF: ***this is good for 8 assays*** Make the mix-mix 200uL 10x ONPG + 1.8mL Z buffer + 2uL 1M DTT = 2mL TOTAL (for example, 12 assays = 400uL 10x ONPG + 3.6mL Z buffer + 4uL 1M DTT = 4mL TOTAL). Add 225uL of mix-mix to 25uL of yeast. Incubate in 37C water bath for 30-60min. When you see yellow color change, add 100 uL 1M sodium carbonate to stop the reaction.Read color change using spectrophotometer @405nm (measuring the nitrophenol product).
results!




REFERENCES
-- iGEM RESEARCH ARTICLE: Development and Characterization of Fluorescent and Luminescent Biosensors for Estrogenic Activity (2016)
-- Estrogenic Activity of Surfactants Assessed Using a Recombinant Yeast Screen (1995) This is the first time YES was made
-- Use of Saccharomyces cerevisiae BLYES expressing bacterial bioluminescence for rapid, sensitive detection of estrogenic compounds (2005) Good BLYES paper
-- Bioluminescent yeast assays for detecting estrogenic and androgenic activity in different matrices (2005) (another BLYES)
-- Bioluminescent yeast estrogen assay (BLYES) as a sensitive tool to monitor surface and drinking water for estrogenicity (2011) How you test on environmental samples
-- Bioluminescent yeast-reporter systems for screening chemicals for estrogenic and androgenic effects
-- Single Plasmids Expressing Human Steroid Hormone Receptors and a Reporter Gene for Use in Yeast Signaling Assays (2009) this is the YES plasmid I used
-- pRR-ERalpha-5Z (Addgene repository - $65)
-- Evaluation of a recombinant yeast cell estrogen screening assay (1997) (YES paper)
-- A Yeast Estrogen Screen for Examining the Relative Exposure of Cells to Natural and Xenoestrogens (1996)
-- Hormone Binding and Transcription Activation by Estrogen Receptors: Analyses using Mammalian and Yeast Systems (1993)




URINE HORMONE EXTRACTION ACTION
CLICK FOR THE PROTOCOL PDF
First prototypes during

Interactivos'16?: Possible Worlds

in Madrid, Spain with collaborators: Byron Rich, Gaia Leandra, Paula Pin, Amanda Padilla, and Carlos Gamez



Experimentations in the Slovenian mountains... thanks PIF camp!



SPECIAL THANKS TO SPELA PETRIC FOR HER AMAZING CONSULTATIONS ON URINE EXTRACTION!
MATERIALS

Every sample that you are trying to test for estrogens or extract estrogens from must be treated differently, whether it is a river sample or a urine sample. This particular method has been performed multiple times for urine samples. However, the final product is a COLLECTION of sex hormones, steroidal molecules in general. To isolate only estrogen would require a further step of purification, which needs to be further investigated. The setup is fairly simple and DIY. You need: glass bottle, silica gel (desiccant), cigarette filters, parafilm, methanol, water, and a urine sample. After eluting, allow the methanol to evaporate until what is left is a brown sticky substance. (Time can vary depending on your method of evaporation). Congrats, you have hormones -- technically pheromones, now that they're acting outside the body.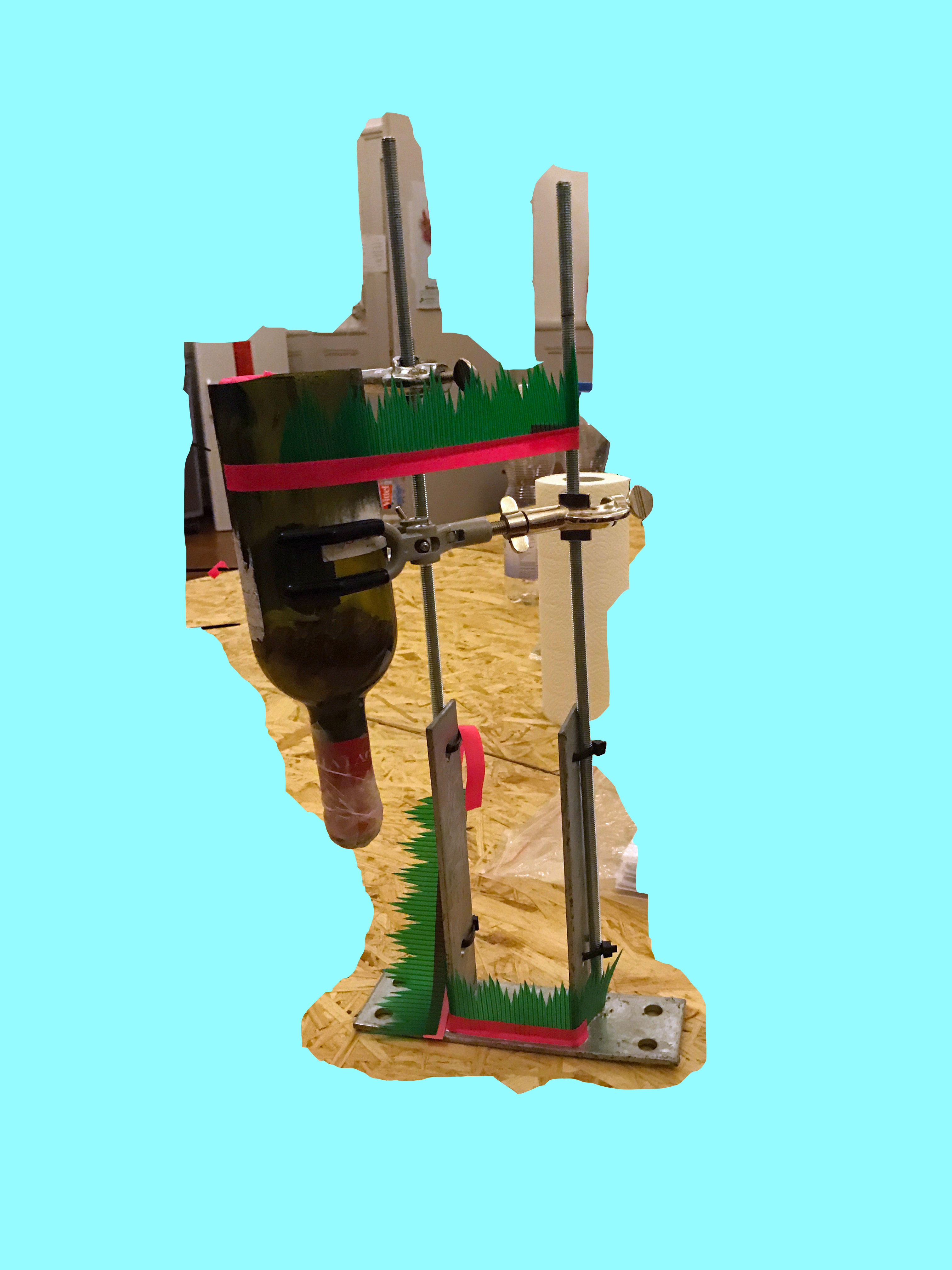 DIY SOLID PHASE EXTRACTION
This method is particularly good for general water samples, such as river, tap, holy water, etc... Large water samples tend to be extremely dilute and/or contain other particles and microbes that would interfere with your detection method (assuming it is YES-HER yeast). Therefore the DIY Vacuum Pump Solid Phase Extraction is a necessary step prior to detection. This method was adapted from a Portuguese paper that listed detailed instructions on materials and construction of such a device. We hacked it by replacing the expensive, lab-grade cartridges with cigarette filters. Turns out, cigarette filters are made of pure cellulose acetate (you know this because they dissolve to liquid when you pour acetone on them), which is a great nonpolar substrate. After running the solid phase extraction, the sex hormones will be trapped inside the filters which you would then need to elute with methanol. Make sure the methanol evaporates before running detection with YES-yeast.

Experiments extracting hormonal molecules from river samples in Kali Code, the most heavily polluted river in Yogyakarta, Indonesia