Milik Bersama Rekombinan
(Recombinant Commons)
the multiplicity inside all of us
only because we are porous, radically.
At first glance, River Code ("cho-deh") in Yogyakarta, Indonesia is a surreal landscape colonized by plastic, with its citizens believing their water is clean enough for daily use. While the root of the problem is complex and multi-faceted (income level, pollution as colonialism, and lack of government infrastructure) it can ultimately be addressed at the social-cultural level, requiring empathy to live and cope in toxic conditions. In this trilogy of works, the artist reflects on the polluted landscape of the river and the local citizens who live densely and intimately in its watery embrace. While water is the medium that connects us all, it is also the primary carrier of the industrial molecules, simultaneously queering both the river and the bodies of its inhabitants. Can the marginalized people of River Code care for the health of the river as if it were their own bodies? Can mutation and shape-shifting be acknowledged as legitimate strategies for survival?
The installation includes a rotating mandala projection comprised on trash found in the river, symbolizing the constant recombination of plastic particles inside our own bodies. The installation also includes a bamboo sculpture of River Code filled with blue agar that invites microbial contamination juxtaposed against contained samples of bioremediating fungi. Next, the river is flanked by a set of two latex sculptures embodying the porosity of skin as it is embedded with trash from the river. And lastly, the installation plays a child's recording of the story "Bagaimana Dunia Berhenti Bergerak" or "How the World Stopped Moving," a story about the river who speaks to a little girl and tells her it is hurting because it cannot digest all the plastic, so it must return it all to humanity.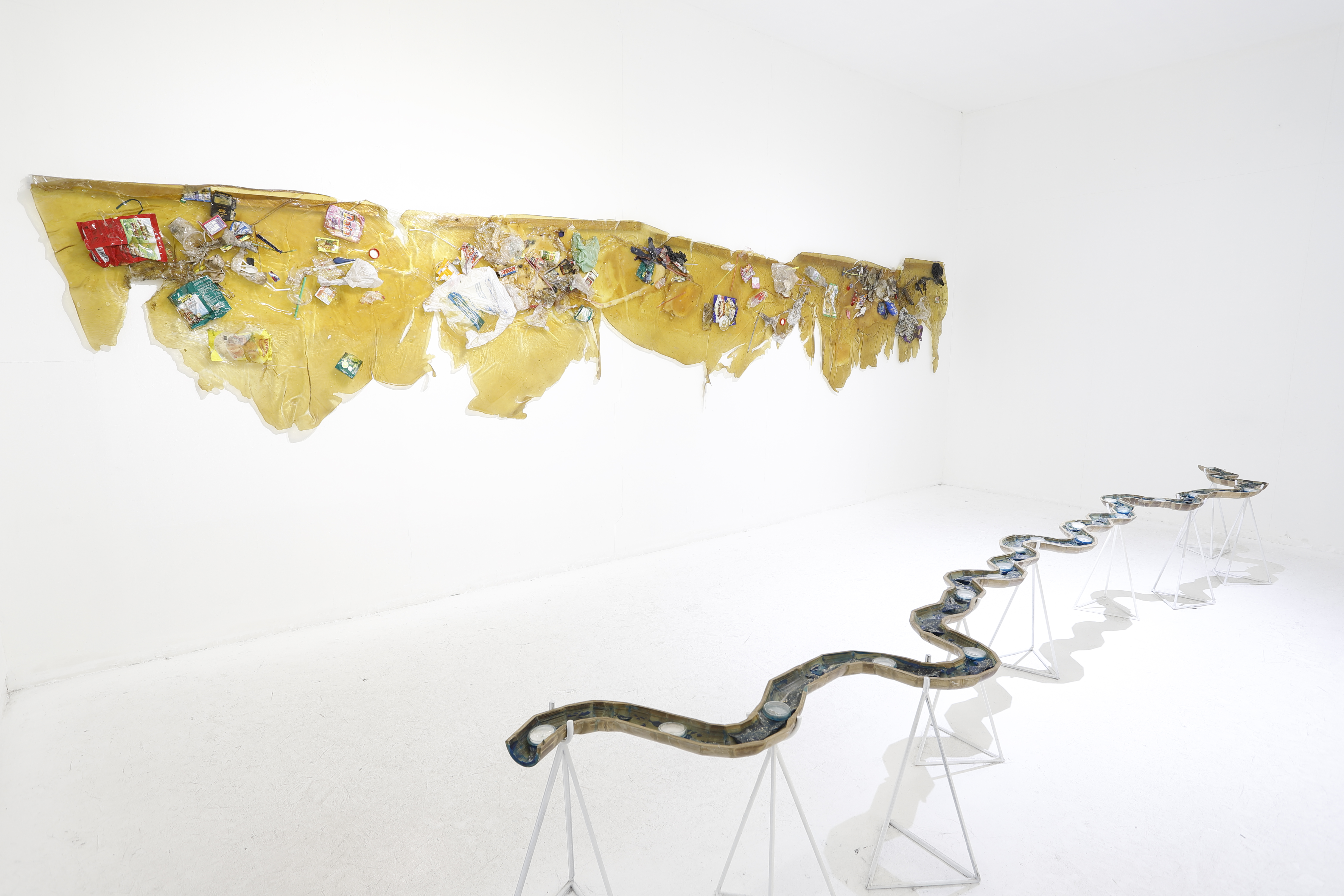 Created for the Yogyakarta International Contemporary Visual Arts Festival ARTJOG: Arts in Common curated by Agung Hujatnikajennong and Ignatia Nilu. Photos courtesy of ARTJOG MMXIX at Jogja national Museum.
river gynecology

kali code (river "cho-deh")
mapping toxicity
decolorization =?= decolonization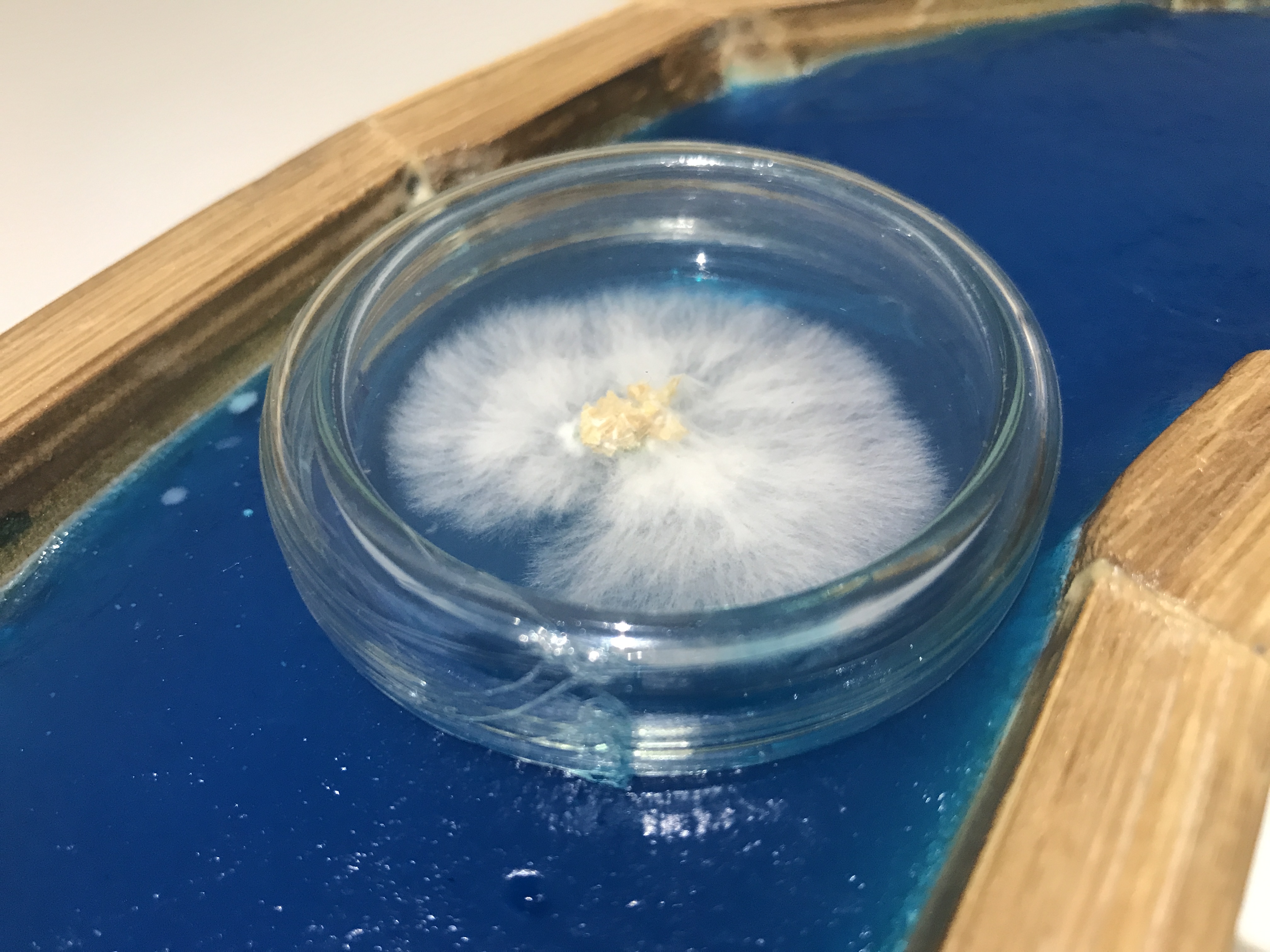 This work would not be possible without Lifepatch - Citizen Initiative in Art, Science, and Technology, Pak Donny Widianto and Mbak Ardhiani from UGM Biotechnology, and Fulbright AMINEF, the organization funding the artistic research project, "River Gynecology." Furthermore, here is a warm thanks to the people who helped me along the way: Ferial Afiff, Nova Rachmad Basuki, Agus Tri Budiarto, Andreas Siagian, Suherman, Agung Satriya Wibowo, and Deki Yudhanto. And finally here is my greatest gratitude to new river friends: Ibu Suryawati, Pak Bejo Utomo, Pak Liliek Suroso, and Pak Mul.