EGSTROGEN FARMS:
A TRANSGENIC CHICKEN
COMMERCIAL FOR WOMEN
Esgtrogen Farms is a company that produces Egstro-chickens, genetically modified chickens that produce a cocktail of gonadotropins in their egg whites. These Egstro-eggs are sold at your local grocery store in a 12-count egg carton. The product is marketed towards women who are trying to ovulate more frequently, whether they've been trying to get pregnant, or make a living as egg donors for the fertility industry. "One egg a day is the fertility way."

The goal of the project is to draw a connection between women and chickens as raw commodities for the biotech industry, as well as perform ways in which women are targeted for bio-consumerism. What is the rhetoric and imagery used in birth management products? Moreover, as avian transgenic technologies become further researched, is it possible to imagine a confluence of the chicken-agro industry and the pharmaceutical industry? In the commercial, farm product language such as"farm-fresh, all-natural" and pharmaceutical caution language such as "this product does not protect against HIV and STDs" are combined together. Egstro-eggs may cause ovarian cancer, but at least they come from happy, healthy, cage-free chickens.


THE MOVIE CHICKEN TEAM
PRODUCER & ANIMATOR: Benjamin Berman
DRONE VIDEOGRAPHY: Christian von Stackelberg
ACTRESS & SCRIPT EDITOR: Melinda Green
ACTOR: David Nicholson

Location and chickens generously provided by David and Carolyn
Chick Chalet Chicken Rentals by David and Carolyn



ANIMATIONS BY BEN BERMAN
The project is inspired by subRosa's Cultures of Eugenics document made in 2009. In the pamphlet, the cyberfeminist art collective compared women and chickens, the harvesting of their eggs as raw commodities for biotech research. At the time, the Roslin Institute of the University of Edinburgh had partnered with a now-dissolved company called Viragen to pursue Avian Transgenic Technologies to create Britney, the first cloned chicken (shortly after Dolly the sheep).


"The essence of this project is to create chickens which produce eggs containing new drugs to treat many serious diseases, including cancer," said Dr Helen Sang, lead scientist on avian transgenic technology at the Roslin Institute. "So far, no-one has produced a transgenic hen in this way," said Viragen's Karen Brown, adding for the benefit of misinformed readers of the Mail on Sunday: "Britney is an invention." subRosa envisioned this type of research to be used on women's eggs, and therefore breeding a new human eugenics. The egg is [no longer] symbolically the reproductive matrix for medicine, drugs, and designer babies.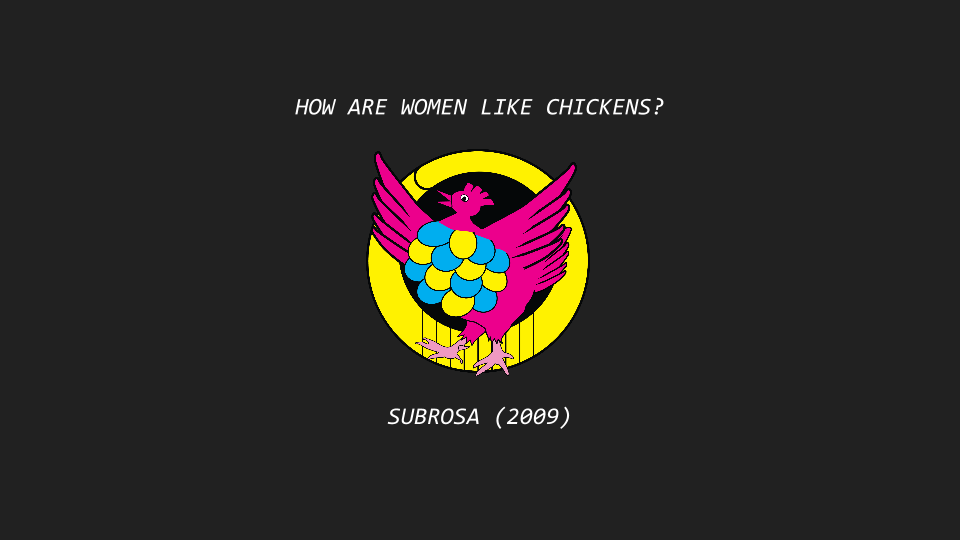 BEFORE YOU LEAVE....
HERE'S A LITTLE ARTIFACT OF BIOCONSUMERISM