ESTROFEM LAB :: ESTROGEN GEEKING
RESEARCH + WORKSHOPOLOGY + FREAK SCIENCE ON MICROCOLONIZATION OF HORMONAL MOLECULES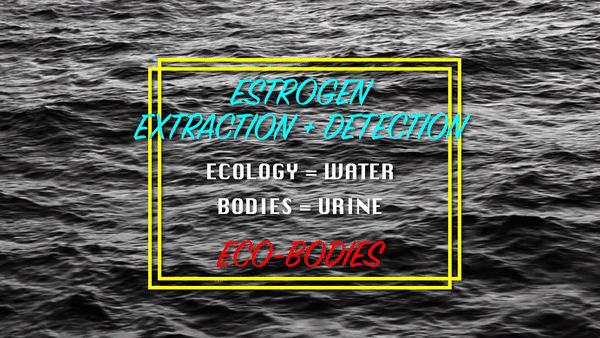 This research-based project is dedicated to the development of an "estrogen hack lab" or ESTROFEM LAB -- a set of tools, protocols, and wetware for low-cost, accessible, participatory estrogen hacking + workshopology, necessitated by its genesis project, Open Source Estrogen (2015), the biopolitics of estrogen colonization and microperformativity. Regarded sometimes as hobo science, freak science, and public amateurism, the Estrofem Lab and its workshopologies aim to detect and extract estrogen from "sources with meaning," providing the contextual framework for why we hack estrogen, and why we perform science as citizens and (hack)activists. This ongoing artistic investigation has led to creation of yeast estrogen sensors (YES-HER yeast) containing human estrogen receptor for detection, vacuum pump solid phase extraction (SPE) using cigarette filters and smashed silica gel, and reverse phase column chromatography using broken glass bottles and methanol. I hope this website serves as a resource for others interested in the ongoing hormonal mutations and reproductive havocs that saturate our shared environments !

The project aims to hack the hormones present in our bodies and our present environment, creating a non-institutional portal for hormone access as well as a cultural dialogue for biopolitics. In response to the various ways hormones (such as estrogen) performs a molecular colonization on our bodies and ecosystems, how do we as affected persons effectively respond? Can we use civic action to create DIY/DIWO protocols and recipes for hacking estrogen that are founded in equity and accessibility? From detection to extraction to synthesis, these estrogen recipes function as social resistance, as consciousness-raising, as DIY therapy, as gender-hacking. Institutions and scientific fields produce fictions about how bodies should be gendered and how they should reproduce, perpetuating a standard of normalcy that is exclusionary and touting hormones as the biological determinant of sexual identities. Thus, present hormone therapies both pathologize bodies and at the same time prioritize access over others. However, hormones such as xenoestrogens exist with their own agency. They can be characterized as a form of slow violence because its mutagenizing effects are so gradual and difficult to perceive. On the other hand, endocrine disruption implies a perspective for what writer Heather Davis calls a "queering futurity." If we are living in an all-pervasive, anthropocentric toxicity, then this challenges society's prescribed notions of normalcy, of binary bodies. The project acknowledges our bodies as permeable, mutable entities that are becoming increasing alien, and proposes to use "the becoming" as an agent for resistance. DIY/DIWO biohacking can function as a tool for creating new entry points and subjectivities, combating traditional power structures responsible for the production of knowledge, of bodies, and of technoscience. From these xeno-forces arise xeno-solidarities, capable of collectively hacking the systems of hormonal control.
✴!-RESEARCH-!✴✴!-RESEARCH-!✴✴!-RESEARCH-!✴

WHAT ARE THE RAMIFICATIONS OF ESTROGEN DE-REGULATION? CAN WE EXTEND FEMINIST HEALTH CARE TO BODIES OF NON-HUMAN SPECIES, CREATING A SORT OF GYNECOLOGICAL CLINIC FOR WATER BODIES?
Xenoestrogens come in many flavors: birth control pills, plasticizers, pesticides, the list goes on and on. Furthermore, estrogen is the most
ancient
of sex hormones, meaning the mutagenic effects of environmental xenoestrogens disrupt species across all vertebrate taxa. We are all collectively mutating, becoming alien and no longer fitting the binary norm. Can we mobilize biohacking and civic action to create new subjectivities on these ongoing anthropocentric toxicities? Do we want to be more alien than we already are?
https://www.niehs.nih.gov/health/topics/agents/endocrine/
macro level
The above shows points of entry of endocrine-disrupting compounds into the water supply. While EE2 (Ethinyl estradiol, estrogen derivative found in oral contraceptives) is more chemically potent than other estrogenic compounds, the amount of EE2 consumed by women using oral contraceptive is significantly less than the other sources described above.
As an example
, the volume of veterinary estrogens given to livestock each year in the US is five times the volume of EE2 consumed by women who use hormonal birth control methods.
micro level
Examples of interaction between xenoestrogens and estrogen signaling pathways. Some xenoestrogens, such as tributyltins, can inhibit aromatase, the enzyme responsible for the conversion of androgens in estrogens, resulting in the perturbation of the androgen/estrogen balance. Other groups of compounds can interfere with estrogenic signaling by competing with natural estrogens for binding to sex hormone binding globulin (SHBG), resulting in defects in E2 plasma transport.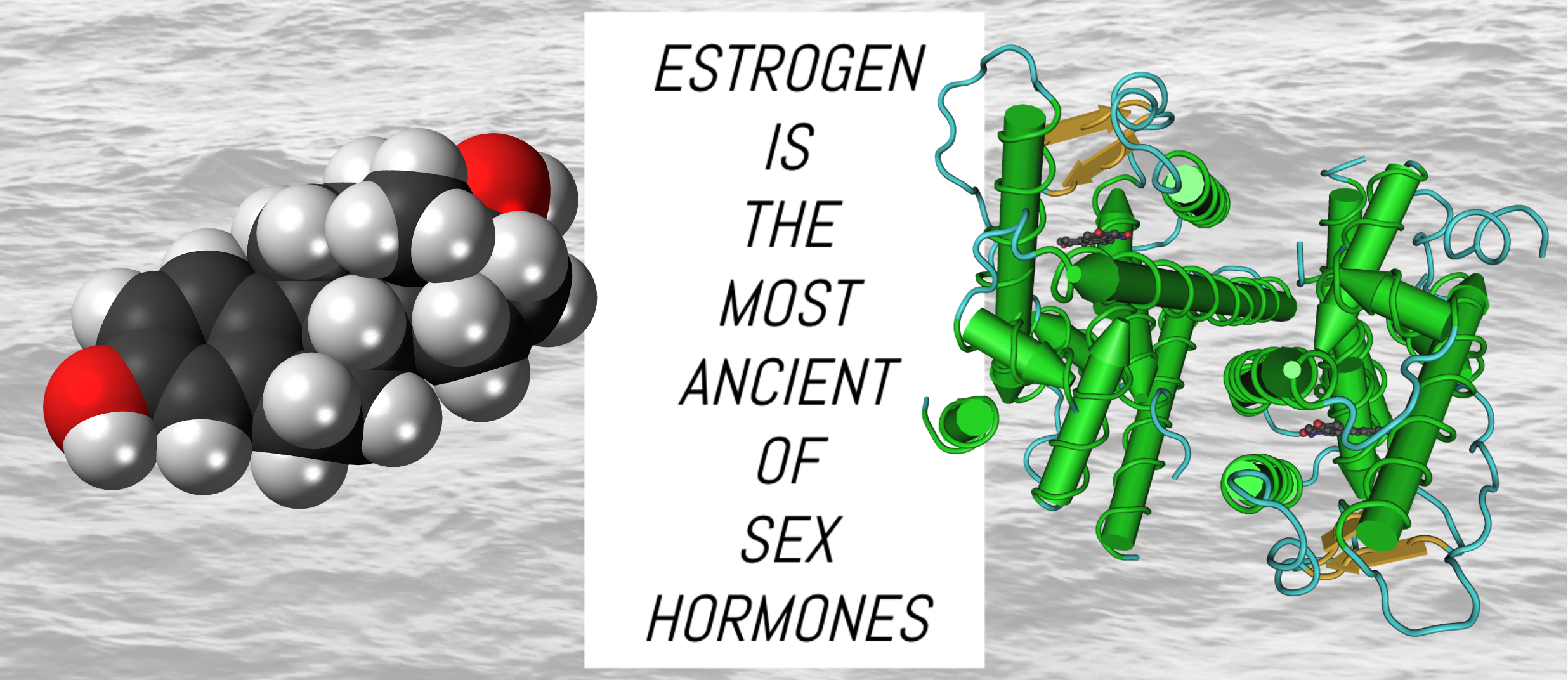 One of the greatest paradoxes of living in the Anthropocene is that we never intended for these industrial molecules to communicate in our shared molecular semiosphere - but they do. Scientists attribute this to the estrogen receptor being highly promiscuous, the opposite of selective. Furtheremore this receptor is highly ancient and conserved amongst all animal/vertebrate taxa, meaning we share this collective mutagenesis with non-human as well.




REFERENCES:

TOXIC ECO-BODIES // ENDOCRINE DISRUPTION
-- Macho Waters: Some river pollution spawns body-altering steroids
-- Stephane Horel research on Endocrine Disruption
-- Toxipedia: connecting science and people
-- Our Stolen Future (worldwide attention to endocrine disruption)
-- An Assessment of Potential Exposure and Risk from Estrogens in Drinking Water (2010)
-- Occurrence of Estrogen in Wastewater Treatment Plant and Waste Disposal Site Water Samples
-- Tracking an Elusive Chemical: Estrogen, David Griffith, Woods Hole Ocean Institution (2011)
-- Pesticide atrazine can turn male frogs into females, Robert Sanders (2010)
-- Collapse of a fish population after exposure to a synthetic estrogen (2007)
-- Natural and Synthetic Endocrine Disrupting Compounds (EDCs) in Water Sediment and Biota of Coastal Lagoon (2007)
-- The U.S. Environmental Protection Agency (EPA) on Endocrine Disruption
-- Anogenital distance index (wikipedia)
-- Human health implications of exposure to xenoestrogens from food, thesis by Barbara Mary Thomson (2005)
-- Silencing the Scientist: Tyrone Hayes on Being Targeted By Herbicide Firm Syngenta (YouTube)
-- "The toxic baby" Tyrone Hayes ~ Syngenta's Atrazine herbicide TED TALKS (YouTube)

CITIZEN WATER MONITORING
-- Biodesign for the Real World Wiki
-- Polluted River Anoia (hotglue.me)
-- BLYES (BioLuminescent Yeast Estrogen Screen) by Avery Louie, BosLabs (2012)
-- Open Water Project, Public Lab and Center for Civic Media
-- Environmental Estrogen Testing, Public Lab
-- Environmental Health Clinic, Natalie Jeremijenko
-- Estrogen detecting swimsuit, Rebecca Lieberman

BIRTH CONTROL PILLS & WATER
-- Are Oral Contraceptives a Significant Contributor to the Estrogenicity of Drinking Water? (2010)
-- Birth Control Hormones In Water: Separating Myth From Fact (2011)
-- Male Frogs May Be Turning Female Thanks to Estrogen in Suburban Waste, Douglas Main (2015)
-- Determination of steroid estrogens in wastewater treatment plant of a contraceptives producing factory




SPECIAL THANKS TO GAIA LEANDRA, PAULA PIN, CARLOS GAMEZ, AMANDA PADILLA, MARC DUSJAGR, JOSIAH ZAYNER OF THE ODIN, SACHIKO, KATE ADAMALA, SPELA PETRIC, RUDIGER TROJOK, NOAH JAKIMO, VANESSA J. CHEUNG, DAVID KONG, ALEX GARRUSS, AND EVERYBODY WHO HAS EVER HAD A CONVERSATION/DISCUSSION WITH ME ABOUT ESTROGENS, DETECTION, URINE EXTRACTION, ORAL CONTRACEPTIVES, AND ENDOCRINE DISRUPTION!